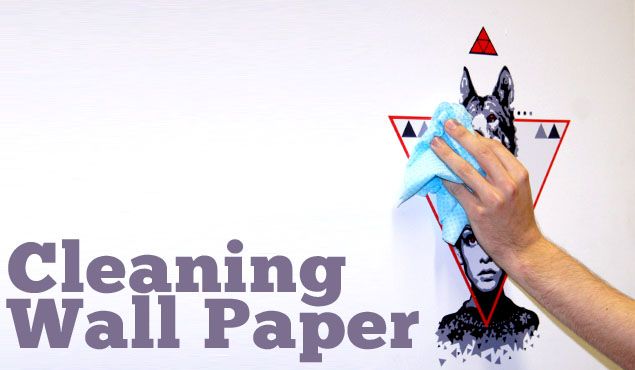 In a busy household, it's easy for wallpaper to get dirty; be it smudges, finger prints or even that splattering that you're not sure what caused it. Young children can add their own designs to it that are quite often food related, hopefully not permanent marker related! Removing spots and stains on wallpaper can leave the room looking as fresh as a daisy and is well worth the effort.
Here's the easiest way to do it...
What You Need:
- 1 x pair of Rubber Gloves
- 1 x Duster
- 1 x Bucket of Warm, Soapy Water
- 1 x Bucket of Clean Water
- 1 x Sponge
Move Everything Away From The Wall
To prepare, move furniture to the middle of the room and lay down a sheet to collect soapy drips. You might also want to stick a piece of foam onto any picture nails to remind you where to hang them back up – in particular if your wallpaper is patterned.
Get Ready To Clean
Get your buckets at the ready. If you turn up the cuffs on your rubber gloves, then you'll catch drips before they go down your sleeves. You might also want to grab a step stool so that you can reach higher up the wall to remove dust. Keep yourself safe by using tools with longer handles when possible.
Get Cleaning
Before you wipe the walls down, run the duster around the room, in particular up high and lower down where it is most likely to settle. If you see some cobwebs, then you might want to use a vacuum cleaner with a long nozzle - the perfect way to remove them.
Wipe the walls down with the soapy water using a squeezed out sponge. Work from the bottom up to avoid dripping down the walls. Most of the marks will come off with a wipe with the sponge. If you come across any particular tricky spots, then you can try removing them with white vinegar mixed with a little water.
As you work around the room, keep an eye on the colour of your water – you may have to change it if it's looking a little grey. Use the clean water to remove any trace of soap.
Depending upon the material it's made from, wallpaper can be fairly fragile so work in small spots at a time. If you need to take a break, take it between walls – not half way through a wall.
Once you've completed your task, sit back with a cup of tea and enjoy your fresh room.
Before you get started, check out our Flower Tree Wall Sticker – It makes a fun and fresh addition to any wall.