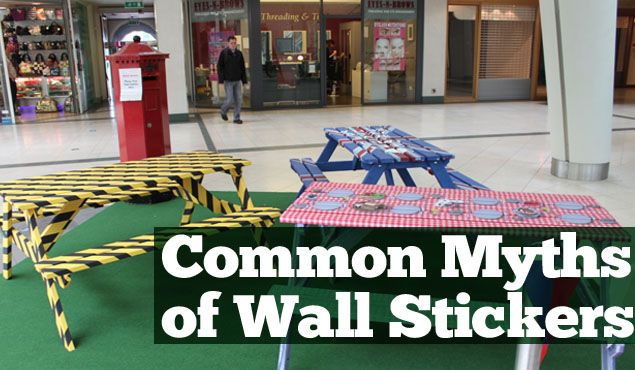 When it comes to wall stickers, some people are not too clear about what they are and what they can do. We thought we'd clear up a few myths with today's post.
Myth 1: Wall decals are stickers
Wall decals aren't stickers exactly as usually stickers are made of paper or plastic. Wall decals are made of vinyl and can be applied using heat. The use of heat actually helps the wall sticker to stick better on the surface.
Myth 2: Decals are just for walls
In fact, this isn't true at all. Any clean, smooth and hard surface will take a wall sticker. You won't be limited to decorating just indoors either, you can take your wall stickers to the outside and use some of the designs to add a little bit of something different to your alfresco space. How about an image of Bob Marley in amongst your ferns or even a flowering blossom tree to get you through the days of winter?
Myth 3: You need to use wallpaper paste
This isn't true as you just need to position your wall sticker, then carefully peel off the back and stick. It's very important that you use a clean and dry surface to stick to though. You may want to wash down the surface first and then allow it to dry before sticking any designs to it.
Myth 4: It will ruin the paint
Mmmmm. To be honest, anything will ruin the paint if it's poorly applied or if it's old. If it's bubbling paint then it will drop off by having your hand run over it, let alone sticking a wall sticker to it and then pulling it off again.
When you want to remove wall stickers, then remember that heat will help you to remove it. You can apply a hairdryer to help you get it off the wall with limited damage. But we don't expect that it will cause any damage, but better safe than sorry.